Sad News:
My computer is going on week 2 of being in the shop after a sad tumble off my bed :( Hopefully it'll be back to my antsy fingers soon.
Not so Sad News:
I'm blogging from work... this is highly frowned upon...
*shrug, oh well*
Good News:
This last weekend was 'Alumni Weekend' for Oakwood University & I got to see my family.
Great News:
My mom is staying an extra day! Yay me!!!
Alumni Weekend is always a lot of fun. Spending time with family, seeing classmates from college, & watching for the outrageous church outfits girls manage to put together. The final alumni weekend activity is a block party where you can browse booths. Sadly, my favorite booth (a bookseller) wasn't present this year :/
I once got a signed copy of a Nikki Giovanni collection of poems from him, I was psyched. :)
Anywho... I'm glad to have experienced another homecoming! Now it's back to work... le'sigh...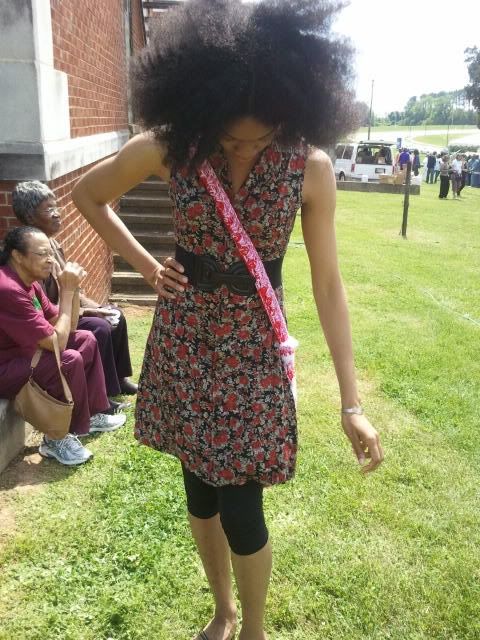 Dress: thrifted - leggings: walmart - belt: borrowed from roommate - bag: handmade granny strip tote
Hair: day 4 of a twist out
This dress has got to be one of my favorite warm weather pieces to wear. Its quite comfy & relaxed. I just wish it was a smidge longer so I wouldn't have to wear leggings with it. I plan to make a pattern from this piece & reproduce it. We'll see how that goes ^.^